OEM Acura Cargo Organizers
The right cargo organizers can mean the difference between keeping what you're hauling organized, in order, and easily accessible, and not. Most are freestanding containers you simply drop into your trunk or cargo area. Others have pockets and other dedicated holders for storing everything from books and road-trip snacks to tools, personal electronics, and other effects. Many, you can even hang from a seatback or slide under a seat, grabbing what you need from them without ever leaving your seat cover.
Most basic cargo organizers are made of no more than simple fabric, usually canvas, and it's sometimes flexible, collapsing or folding up for tidier storage. Some, though, come made of sturdier molded plastic or other durable materials. Many have built-in frames for reinforcement and stability, while others are modular blocks that assemble to accommodate uniquely shaped cargo. Lots, you can get with carrying handles. Slip-resistance is also often a feature, either because of special bases or tie-down points. Plus, those that aren't waterproof are sometimes water-resistant, at least.
Start Hauling with Genuine Acura Cargo Organizers
The cargo organizers your OEM manufactures will be your best fit. That's because Acura designs them to fit the car or SUV model you drive, guaranteed. You can buy as many as you need online here at our auto parts store. Order today, and we'll get them out to you ASAP.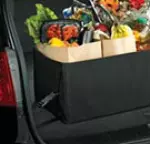 Cargo Area Organizer
Other Names:
Organizer Cargo
Replaces: PREO-TYA-068
Description:
The cargo organizer offers a more rigid way to store your items in the back section of your vehicle. Sturdy canvas gives added support...
No results found for cargo organizer. Here are some helpful search tips:

Search by a part name. Example: water pump.
Be less specific. Example: brake instead of ceramic brake.
Remove information such as make, year or model.
Can't find the part you are looking for? Contact us and we'll find it for you!